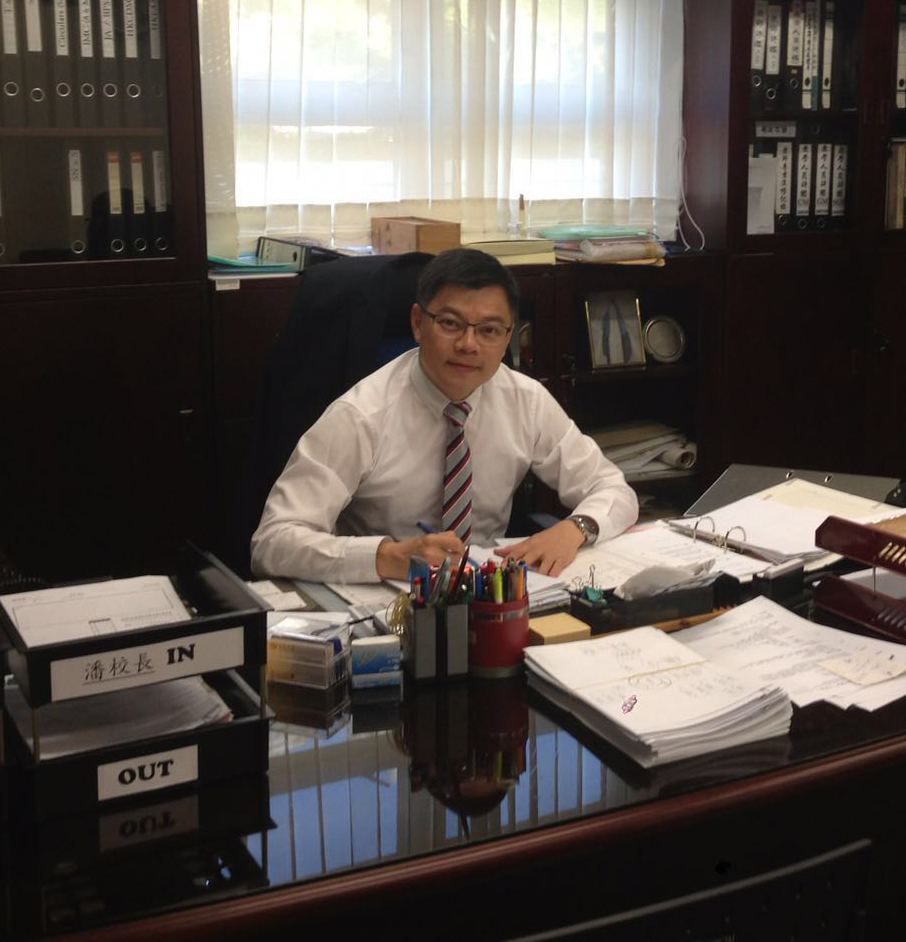 2016-2017
Aim high, Fly high
Time flies. Our school is going to celebrate its Diamond Jubilee in 2018 and we have already celebrated the Commencement Ceremony a year in advance. The theme for the anniversary celebration is HOMECOMING. On the surface, we are simply inviting all alumni, retired teachers and other relevant parties who have a close relationship with SJACS to come back to the campus for the biggest celebration ever. We are hoping that the reunion will be a fruitful and successful one, such that the entire St. Joseph's family will be able to bond even closer. To get deeper into the core essence of HOMECOMING, we need to review what we have achieved in recent academic years, and thus springboard to another milestone of the school's development. To achieve this, Goal Setting is the key prerequisite to success – it defines the aim of the school to further uplift its reputation, not only within our locality, but also to create a bigger impact that goes beyond the district boundaries.
If you ask the best hunter in the world to take aim, the hunter would ask "at what"?
Only by setting a clear goal can we succeed.
Short Term Goals
Re-establish the Reading Culture in School: Create a school environment in which our students are encouraged to read on electronic devices. The more you read, the more inspiration you will get from the materials. Reading is the gateway for our students to be exposed to the limitless possibilities of the world, but also they can enrich their overall speaking, writing and communication skills in their daily life.
Promote Self-directed Learning: Another key component is the establishment of the Learning Community in SJACS – students are expected to do preparation work at home prior to coming to class so that they can maximize the class time in discussions with their teachers and other students on any questions. Teachers can also have sufficient time to share more in-depth knowledge about the subjects in addition to the planned teaching schedule. Students' learning outcomes will be enhanced from this interaction in teaching and learning during their daily lessons.
Implement Project Learning Program: The program aims to help the junior form students in building a foundation for the School-based Assessment Projects (in Chinese Language, English Language, Visual Arts, ICT, Physics, Chemistry, Biology or the IES) as they are promoted to senior forms. It is known to educators that the likelihood to excel in studies of well-prepared students would be significantly higher than those who come unprepared.
Support All-round Development of our Students: SJACS is well-known in the district of Kwun Tong for being strong in the sports arena and the uniform groups. Apart from the current commendable achievements, striving for a balanced campus life is exuberantly welcomed. Students are encouraged to spend time on activities of a different nature in order to nurture their all-round development in both academic and extra-curricular pursuits.
Long Term Goals
Continuous improvement in Josephians' Academic Performance: It is not only our short term goal, but also the main focus of the school in the long run. In order to help enhance the standard of our students' performance, more measures such as the Whole School Reading Programme, foreign language classes, study groups, and mentor scheme will be promoted in the junior forms – aiming at raising their overall academic performance and this would then lead to a stronger foundation for their senior form studies. More importantly, Josephians will be required to put more effort in developing their language skills not only for the preparation of the HKDSE, but also for the long-term benefits to future career progression.
Character Education: As quoted in the famous idiom, "Rome wasn't built in a day" – I am so proud to see the graduates of SJACS possessing the characteristics of being passionate, kind-hearted, cultivated, understanding and well-mannered. Also, they will be able to contribute to society through the nurturing of the school with the five Catholic Core Values – Justice, Truth, Love, Life and Family.
The Development of Arts Education: The school is aiming to shape Josephians in an all-round approach. More activities and training on Arts education would be introduced to those who have interest in these areas, and their talents could then be further developed during their school life.
As we step closer to the goals I have set forth above, I am hoping that SJACS will be one of the outstanding schools whose good reputation goes beyond the district of Kwun Tong, but more importantly, I hope SJACS will be able to win the hearts of many of our Josephians and their parents by being the pride of their life.
The goals listed above are important in the future development of the school in the coming years – we will not, however, move towards those goals without the support from our parents, teachers, staff, students and alumni.
Fellow Josephians, let's walk and work together towards our goals.
"You haven't failed until you quit trying." — Anonymous
Lastly, I would like to express my grateful appreciation to Mr. Koo, our supervisor, for his guidance and support over the years. Also, I would like to take this opportunity to welcome our new supervisor, Mr. Chu Fu Yau, and we are looking forward to great success under his guidance in the years ahead!
Benedict Poon
Principal