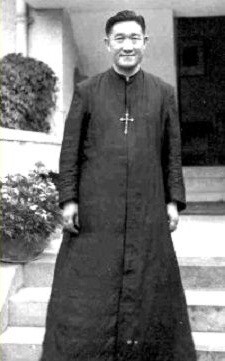 孫保祿修士 (1907.11.20 – 1986.03.13)
Born in Reihe (熱河), now Inner Mongolia, Bro. Paul Sun devoted his life to Christ and education at the age of 19 as a brother disciple of the Society of the Most Sacred Heart of Jesus. After completing his school education, he moved to Beijing to study at the Catholic University of Peking (北平輔仁大學) and later in Japn under the sponsorship of the Society. In 1940 he was elected the first Chinese superior general of the Society. In 1949 he left China and founded a school in Indonesia. He came to Hong Kong in 1952 and taught and acted as a warden at La Salle College. In 1958, with the support of the De La Salle Brothers, the Marist Brothers and some other friends, he succeeded in establishing St. Joseph's Anglo-Chinese School, initially with 455 boys in humble premises converted from a villa. For a few years the school had to operate in three sessions each day, until a new wing was added in 1962. With Government support, a stand-alone school building for the secondary section was completed in 1968.
Brother Paul placed the school under the special patronage of Saint Joseph drawing hope from his model of parental care and mirroring the love of the Holy Family. In 1971 he was honoured as an affiliate of the De La Salle Brothers. He passed away on March 13, 1986.
True to the spirit of Christian love, Brother Paul's vision was to offer education to all who aspired to learn including many who might otherwise have been deprived of the opportunity to develop their potential. This philosophy is well-enshrined in the School's motto of "Ad Astra" and "Benevolence". ( 臻於至善,力行仁愛。)